Sixty40 nostalgia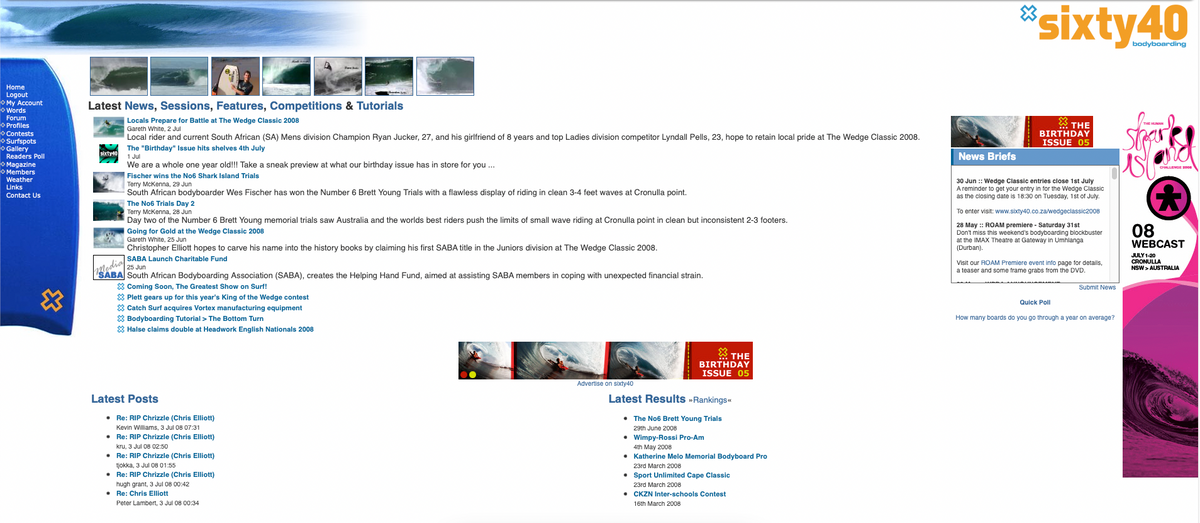 I've been bodyboarding since around 2008. It's the sport that drove me through much of my teenage years. I made close friends thanks to it and it introduced me to the idea of exploring, travelling and it drove me to combine the passion and combine it with other passions such as photography, filmmaking and tech.
As I got into bodyboarding, when I was 13 years old, I was already a keen internet user. I quickly came across across Sixty40, a bodyboarding focussed website. It was filled with news articles, rider profiles, list of surfspots, pictures, videos and a healthy, active forum. Sixty40 was a very modern website and extremely well developed for its time.
Sixty40 played a big part of my introduction to bodyboarding and the years to follow.
Through the website, I made friends that I'd eventually meet in real life and go surf with, got into surf photography so I can share photos that I took on Sixty40 and whenever I have questions, I'd write on the forum and someone - occassionally pro's - would answer. As a teenager and even today, it's really epic when you get a solid reply from a well respected professional in the industry. It gets you so amped and excited.
Not too long after, Sixty40 grew big enough that they started publishing hardcopy magazines stocked at some surf shops and that you could order online delivered to your post box. I remember convincing my parents to drive me to a town called Margate every other month (about 100km from home) where there was a surfshop called Factory7 (which was also the defacto Sixty40 HQ), to go buy the mags and often came out with some locally produced bodyboarding DVD's or some new equipment as well.
I'd come home with the magazines and read it word by word, from start to finish. Everything was extremely well written, designed beautifully, amazing photos and most importantly, it could get a 15 year old with a Playstation, Gaming PC and the beach within walking distance, to actually switch everything off and read.
Around 2011, while the magazines was still being released consistently, I suspect due to the sudden rise of Facebook and Instagram, traffic on Sixty40 was slowing down. Images was being posted less frequently and the forum died down. I even started a thread on the forum titled, "Is Sixty40 dying?". The post got quite a discussion going, but sadly I think it was largely all talk with with very little action.
The magazines eventually stopped being released as printed hardcopies and went on to be published online. As I didn't live in SA at that time, it worked out perfectly as I could get the new issues online as soon as they came out. However that too came to a slow down and the last issue was released in December 2015. While it was no final goodbye, we haven't seen a new issue since.
Going back to the website, we haven't really seen much user activity since 2016 (to be fair, the login stopped working years ago and is still not fixed), makes it impossible for users to do anything. The site is still up and running as I suppose Kelly (the founder of Sixty40) keeps paying the server bills. It's awesome for throwback memories and going through old photos, news articles, forum discussions, etc.
It often makes me wonder, would it be possible to relaunch Sixty40, revived to the tune of success?